It's pretty amazing what a difference the right toys can make. 
If you think of toys as tools that are meant to meet an exact need that your Pomeranian has, you'll find that they can help in regard to an impressive number of things. A dog's behavior and even his level of security can be altered with the right help. 
You do not need to have a lot of toys; in fact, having too many can just create a big pile that is essentially ignored and it can make it hard for your Pomeranian to have access to the right ones.
So, what you will want to do is take some time to have a few carefully chosen toys that meet your Pom's exact needs. 
Here, we'll go over the 5 types of toys needed, and how these can benefit your Pom puppy or dog. 
#1 Chew Toys
Teething: When Pomeranian puppies are teething, this can be a rough time for the pup, and a desperate time for owners, as they search for ways to help. Teething, the process in which milk teeth fall out and adult teeth grow in, typically starts at the 4 to 5 month mark. It will last several months, often winding down at the 8 to 9 month mark.
During this time, a pup's gums are incredibly itchy and may feel sore as well. The urge to chew is exceedingly strong. Just about anything may be mouthed in a pup's search to find relief. So, now is the time to have a few great teething toys that do their job. 
Elements to look for in a good teething toy:
Correct size, so that sections of the toy can fit into a Pom puppy's mouth, which is not always easy with small toy breeds.

A pliable yet durable consistency to provide a pleasing chewing experience.

It must draw the pup in. Flavor is an effective method for this.

And it must be designed in a way that the toy is able to 'scratch' the strong itch that a puppy will have. 
There are two main things to look for in this regard. Small nubs and/or ribs work very well. These are tiny little bumps that you'll see on the toy, which are fantastic for a teething pup. 

The other is twisted rope toys. Rope, when sized right, is terrific; it can be worked into areas that are giving the pup a problem at any one given moment, and the texture is great for itchy gums. 
Recommended Teething Toys:
These are fantastic due to their ideal size, flexibility, and nubs that massage sore gums and offer relief. 
2. Nylabone Just For Puppies Key Ring Toy.
This neat little set that has a ring and three 'keys' offers different chewing surfaces, so that whether your puppy is feeling pain or itching, this toy will help.
3. Puppy Chew Mini Teething Rope Toy Set.
This is an awesome set of braided ropes (two have frayed ends) which is greatly appreciated by teething pups. To make this even better, wet down the ropes and freeze them for a soothing chew that helps with inflamed gums.
If your teething Pom puppy likes to shred up pillows, chew on your socks, or bite on other soft objects, this is the toy that you'll want for him or her. This is a durable yet soft little yellow duck that has a squeaker inside.
Cuteness break!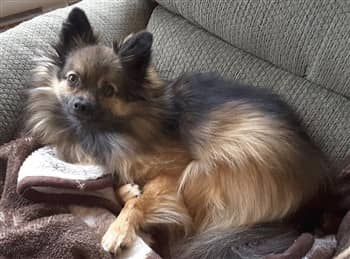 Titou, photo courtesy of Josee from Quebec City
#2 Toys to Keep a Pom Busy and Focused
Another important reason to make sure you have the best toys possible, is to help prevent boredom and to keep a Pomeranian engaged. 
These will be needed for several reasons:
To keep a Pom busy and focused when he's home alone by himself. 
These can be a great tool for if a Pom wakes up at night to offer something to play with instead of waking you up.

Are perfect when you want to keep your Pom busy when you are home, but are doing other things and cannot interact with him.

The most important element for 'stay busy' toys are that they need to capture a dog's attention and hold it. In most cases, a toy that is just 'there' will not fit the bill.
You will want to look for toys that draw a dog in. And then keep him wanting to play. This can be accomplished with toys that a dog perceives are interacting with him. 
Recommended 'stay busy' toys: Dog toys that speak are really great for this. Let's look at some awesome options: 
1. PetQwerks Talking Babble Ball.
This is a really cool ball that emits 20 funny phrases when it's nosed, so this can keep a Pom entertained for quite some time. It says silly things like 'Hot diggity dog!', 'Come here, puppy!' and 'Ohhh, baby!'.
Your Pomeranian will be just as assumed as you are when this toy lets out the classic 'Oh, nooooo!' phrase. It's simple yet colorful and as with many toys that seem 'alive', it can keep a dog intrigued.
3. Multipet Look Who's Talking Cow.
This is the talking cow which is quite amusing (and cute) but there are a slew of other adorable talking animal toys as well including a monkey, parrot, duck, frog, and rooster.
Cuteness break!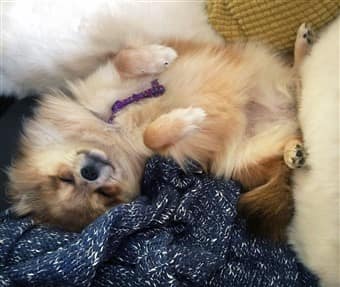 Pepper, at 9 months old, photo courtesy of Eryn March
If you've had a bad experience with treat release toys for your Pomeranian, most likely this was because the toy was huge. Many of these are designed for medium and large sized dogs. However, there are a few great ones that are more appropriate for toy sized breeds.
Treat release toys are really terrific for a couple of reasons:
To keep a puppy occupied if he wakes up during the night or super early in the morning.
It can be hard for pups to sleep through the night during the first couple of months; in some cases, if they have a small treat dispensing toy, this can keep them happy for quite a while (though companion toys work great too, and we'll touch on those ahead).
Pomeranians need to be fed 2 to 3 meals per day. And while you can leave food out in a bowl if you will be gone during a feeding time, another great option is to use a treat dispensing toy. 
Tips for treat release toys for your Pom: You can fill these with either your Pom's dry kibble or small-sized treats. If you find that your puppy or dog is able to release the food much too quickly, you can mix the dry bits of kibble or treats with all-natural, smooth peanut butter. Most dogs love this.
Be sure to clean these toys out every other day or so, since bits of leftover food can become stale and quite stinky. 
Recommended treat dispensing toys for Poms: The tricky part of this is to find ones that are the right size for this breed. A huge majority of these are for dogs up to 20 lbs. Luckily, the PetSafe Busy Buddy Barnacle Dog Toy, Extra Small exists; they really hit the mark on this one, offering just the right size that dispenses treats perfectly. It consists of 3 orbs that each hold treats, making it easy for Poms of all ages to manipulate. 
Another really great one is the 
PetSafe Twist 'n Treat
, which comes in both extra-small and small sizes. With just a twist, you can adjust the difficult level so it can be perfect for your particular Pom's needs. This is also very durable and super easy to take apart and clean.
Cuteness break!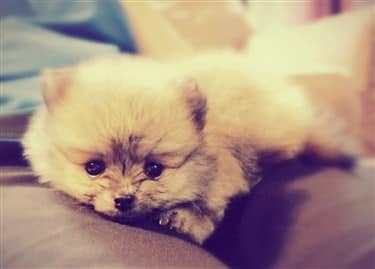 Pebbles, at 10 weeks old, photo courtesy of Adele
It's really heartbreaking to leave a Pomeranian home alone if you know that he has a hard time with separation anxiety. And while there are many steps involved in helping a dog cope with being alone, part of this is to remove the feelings of isolation via a companion toy.
In addition, this sort of toy is perfect for young puppies that are having a hard time at night, often crying or whining because they don't want to be alone.
But, the right toy can make a Pomeranian feel as if he truly has a real friend right keeping him company. With these, your Pom will never be alone again; he'll always have a source of security and comfort. 
Our recommended companion toy: By far, the Smart Pet Love Snuggle Puppy 
is one of the best companion toys that you'll find.
These are quite amazing. They are good sized, quality stuffed animals that are great for snuggling. Importantly, they emit a rhythmic, soothing heartbeat that realistically mimics a living creature. And, there is an option to turn on a comforting warmth, which is a fantastic bonus. This is the closest you can come to having another dog to keep your Pom company, without technically doing so.
You'll find that these toys essentially last forever, because you can obtain replacement hearts (these typically last for years, so you may never have to replace the heart) and purchase heating elements as needed.
Cuteness break!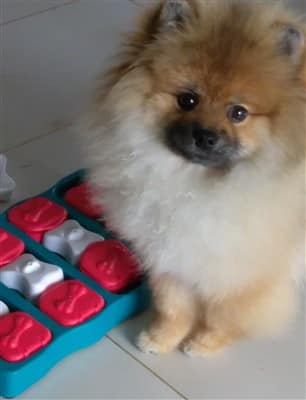 Bella, at 5 months old (with her Nina Ottoson toy), photo courtesy of P. Need (Hawaii)
#5 Toys for Both of You to Play Together
Pomeranians love spending time with their humans, and will want to be active with them as much as possible. And, playing together is a great way to increase the bond between the two of you. 
Cuteness break!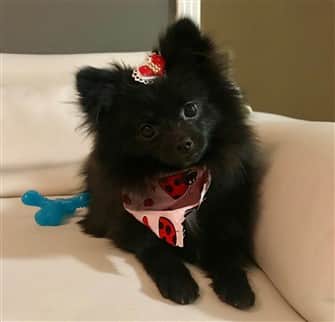 Keisha, at 7 months old, photo courtesy of Cyann Davis
Toy Tips
Here's some tips that can help out in a number of ways:
1) Rotate your Pom's toys. If you buy some of the better toys that last quite a while, that is great; but, it also means that your Pomeranian will keep seeing the same toys over and over again. Though he may love to have a couple of favorites near him at all times, it can be a good idea to have 2 toys bins.
Every few weeks, switch them out, and this way your Pom will keep getting 'new' toys. Do, however, keep those  'favorites' as a Pom can become very attached to a certain toy and can become upset if it suddenly goes missing.
2) Routinely check the toys to see if there is enough wear and tear that the toy could present a choking hazard and needs to be thrown out.
3) As your Pomeranian matures, toys needs will change. So, do a toy assessment every so often, looking at the 5 main types of toys here, to see if your little guy or gal is in need of a toy element that they are not currently receiving. 
With toys designed to meet the needs of chewers, teethers, dogs that are bored, those needing encouragement to play, those feeling lonely when home alone, and those in need of both physical and mental stimulation, the right toys can help with all of these elements.